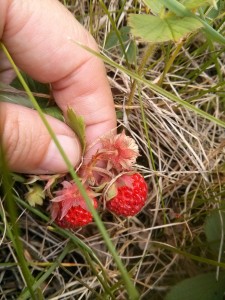 This is the month of the strawberry moon, in Ojibway odiimin gisiss; the words strawberry and heart are closely related in the language, so the teaching goes that the strawberry is the "heart berry" and is believed to have healing properties.  The bear is the healer, he is the carrier of medicine as he digs up the healing roots with his claws.  The seeds of the strawberry are on the outside of the berry signifying that through forgiveness and reconciliation we allow ourselves to be vulnerable, its about letting go of old resentments and judgement.
Today I was out walking around the Millbrook prison grounds nearby where I live; it was a minimum security prison that is closed now but a friend was showing me the grounds as a good place to walk Bear my dog because of the open rolling fields and view up top of the surrounding area.  As we walked I could feel how heavy the energy is there, very heavy and dense.
To my surprise on a section of the grounds close to the edge of the forest I found a patch of wild strawberries.  I had a little feast of wild strawberries, they were so sweet; much sweeter that the ones you buy in the store.  I pondered how this beautiful, sweet healing energy is moving into a place where much pain and sadness must have lived.
The sweetness of the strawberry is a reminder of how once we let go of pain, anger and resentment, forgive and heal circumstances from our past we can move forward and reconnect with the sweetness of life.
© Lorraine Hughes 2014